How will you get there?
Four distinct SMART Processes – District, School, Team and Student – result in the creation of realistic, goal-focused improvement plans to assure that every student has equal access to highly effective teaching and learning practices regardless of which school they attend, which teacher they are assigned or which program is being taught. The processes work together to create interdependent patterns of success at the district, school, team and classroom levels.
These interdependent patterns provide recurring feedback loops to all levels, so that when any part of the system changes, the entire organization learns and can respond with similar success. As a result, actions taken are well-informed and intentional rather than random or reactionary.
Each of the four SMART Processes follows the Plan-Do-Study-Act (PDSA) cycle.
The SMART Processes are all protected by Service Marks (SM).
Each of the four SMART Processes consists of a series of five steps that link data and logic in a progressive set of decisions and actions. After each step, additional data are gathered and analyzed to inform decision making at the next step. In this way, all data analyses serve a specific purpose for moving improvement forward.
Standards for Professional Learning
SMART Processes, and our collaborative work with Districts, Schools, and Teams to implement them, reflect and actualize the Standards for Professional Learning from Learning Forward.

Discover more about the alignment of our work and the Standards for Professional Learning in the Handbook for SMART School Teams 2nd Edition.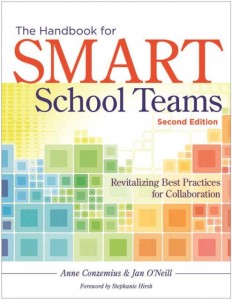 Perspective

This is a lot more than being SMART about data, although it is surely that. Even more compelling, it is about using data in humane and productive ways: to inspire rather than perspire; to bring together rather than pull apart; to highlight our commonalities and potentials rather than separate us by our failures.

This emphasizes people and what motivates them, and gives us wonderful tools – data-based and other – by which to meld inspiration with evidence. This is as good as it gets!

~ Mark Van Clay, Solution Tree Author and Consultant and former Superintendent and Educator, in response to learning the Process during an Illinois SMART School Coach Academy.